Summary
Award Number:
DE-EE0007998
Project Title:
Scalable/Secure Cooperative Algorithms and Framework for Extremely-high Penetration Solar Integration (SolarExPert)
PD/PI Names:
Zhihua Qu
Team Members:
UCF, NREL, HNEI, Siemens, GE, Duke, OPAL-RT
Project/Grant Period:
09/01/2017 – 01/31/2021
Goals of the Project:
This SolarExPert project aims to meet the long-term goal of ENERGISE by designing highly scalable technologies for distribution systems to operate reliably and securely with extremely high penetration of distributed energy resources.
The overall project goals are:
(i) Design a modular, plug-and-play, and scalable Sustainable Grid Platform (SGP) for real-time operation and control of the large-scale distribution network (> 1 million nodes system);
(ii) Develop advanced distribution operation and control functions to manage extremely high penetration (> 100% of distribution peak load) solar generation in a cost-effective, secure, and reliable manner.
The performance will be tested through software simulation, hardware-in-the-loop testing, and testbed validation.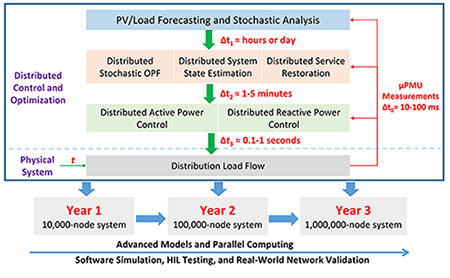 Project Deliverables:
(i) Open source software of the Sustainable Grid Platform with scalable architecture of distributed control and optimization
(ii) Developed models and algorithms – Advanced DMS functions
online distributed stochastic optimal power flow based on dynamic, real-time, distributed feedback control
online distributed system state estimation algorithms based on prediction-correction methods for time-varying convex optimization
distributed volt/VAR optimization and frequency control algorithms based on distributed cooperative control and optimization
distribution system restoration strategy based on distributed cooperative control of multi-agent systems
(iii) Software simulation and HIL testing results
---
Outcomes
Sustainable Grid Platform:
A Multi-Agent OpenDSS (MA-OpenDSS) platform with the following functionalities
open source software based on OpenDSS
asynchronous local communication architecture
secure communication based on OpenFMB
autonomous clustering for self-organizing microgrids
distributed optimization/control for voltage stability
distributed cooperative control for DERs to automously coordinate active power
distributed stochastic optimal power flow
distributed system state estimation
automatic distribution system restoration
fast automated process for impact studies of extremely high PV penetration
For download and further information, click MA-OpenDSS
Publications:
For a list of publications, click ENERGISE Project Publications