The color code for the resistor value utilizes two digits and a multiplier digit in that order, as shown in Figure A – 1. A fourth band designates the tolerance.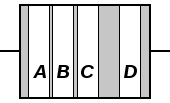 Figure A – 1
The resistance of a resistor with the four bands of color may be written as

Where A and B are the values of the first and second bands, respectively, C is a multiplier and D is the tolerance. The color code together with multipliers and tolerances are listed in Table A – 1.
Table A – 1 Electronic Color Code
| | | | |
| --- | --- | --- | --- |
| Color | Significant figures | Multiplier | Tolerance |
| Black | 0 | ×100 | — |
| Brown | 1 | ×101 | — |
| Red | 2 | ×102 | ±2% |
| Orange | 3 | ×103 | — |
| Yellow | 4 | ×104 | — |
| Green | 5 | ×105 | — |
| Blue | 6 | ×106 | — |
| Violet | 7 | ×107 | — |
| Gray | 8 | ×108 | — |
| White | 9 | — | — |
| Gold | — | ×10-1 | ±5% |
| Silver | — | ×10-2 | ±10% |
| None | — | — | ±20% |
For example, if a resistor has four color bands, red-violet-green-gold, as shown in Figure A – 1, then