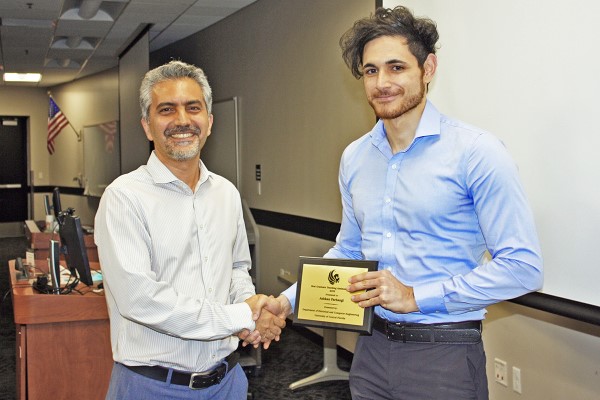 Where would we be without our graduate teaching assistants? The grads our faculty rely upon to prepare lectures, teach classes and mentor our students – duties they perform in addition to working on their own research – are amongst the most impactful individuals in the department.
To honor their contributions, the department has established the Best Graduate Teaching Assistant Award to recognize those that go above and beyond in their roles as GTAs.
Marc Jean and Ashkan Farhangi were chosen as the inaugural award winners. They each received a commemorative plaque at this year's GTA orientation and will share a $1,500 award.
The department's annual GTA award represents an incredible honor, as the awardees are chosen by those they serve: students. Undergraduates were invited to select their favorite TA at the end of the spring semester. This year's selected GTAs tied for the highest number of votes.
Jean, a fourth-year electrical engineering Ph.D. student, says the most rewarding aspect of being a TA is being able to interact with the students and to help them with their learning needs.
"I've learned that teaching is no easy task. It is very difficult to convey complex information in a classroom setting," Jean says. "I find that explaining concepts in small simple steps helps students better understand the topic."
Farhangi, a Ph.D. candidate in computer engineering, says breaking down difficult concepts helps him in his own research. He adds that he encourages his students to ask questions that challenge every method they learn.
"The most rewarding aspect of being a TA is when students show contentment after they have mastered abstruse subjects," Farhangi says. "I learn from them when they come up with their own novel solutions and answers."