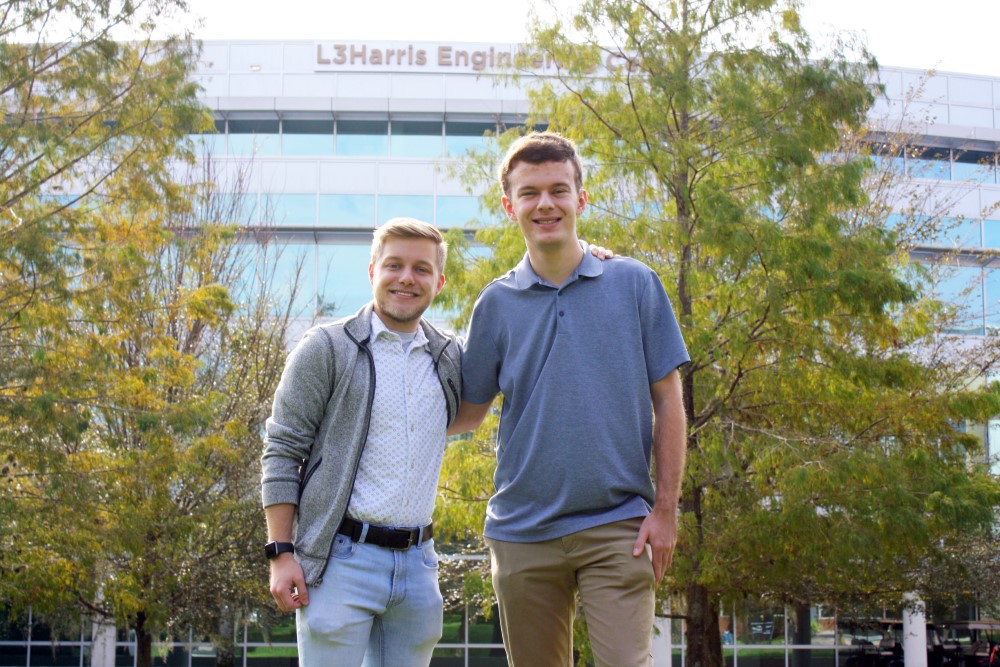 High-performance computing giant AMD has partnered with the UCF Department of Electrical and Computer Engineering to offer an exciting new opportunity for its students: undergraduate research fellowships.
The inaugural AMD research fellowships were awarded to John Gierlach, a computer engineering major, and Chase Szafranski, an electrical engineering major. They will have the opportunity to work with AMD's Orlando office for the next 12 months, collaborating with AMD experts and UCF researchers to complement their theoretical in-class knowledge with the practical applications in industry.
Rex McCrary, Director, AMD GPU Subsystem Architecture and Orlando R&D Site Lead, says AMD hopes to encourage and enable more undergraduates to engage with research professors, learn solid research strategies and help develop new technologies that will advance industry and company solutions.
"The talent pool of graduates from UCF's ECE program is solid, and as we collaborate at many different levels with a comprehensive strategy, we desire to assist and accelerate UCF's ECE Department's goal of a premiere teaching and research campus," McCrary says.
Gierlach says he knew he wanted to build computers someday, and is passionate about how computers work on a fundamental level regarding hardware and software. His research interests include computer architecture, network-on-a-chip design, energy-efficient computer systems, CAD for VLSI circuits, and hardware synthesis and verification.
"Working with places like AMD has been a dream of mine since I was young, and making my first steps toward a possible full-time position leaves me speechless today," Gierlach says.
Szafranski says he enjoyed his math, science and coding classes in high school, and chose to study engineering to combine those interests. He chose electrical engineering for the variety of courses available in the major, such as computer architecture, microwave engineering, programming, electronics and control systems. His research interests include chiplet-based GPUs, network-on-a-chip design, and domain-specific accelerators.
"AMD is a leader in computer architecture, and receiving this fellowship is a huge honor," Szafranski says. "I can't wait to get started with research."
Gierlach and Szafranski will be working among a number of Knights, as the AMD Orlando office has more than 50 employees who are UCF alumni.
"I'm incredibly excited about the growing relationship between AMD and UCF," McCrary says. "I think we will look back in just five years and say it was a game changer for both of us. In 10 years, it will be incredible."