To understand a university's role in shaping the future of the world, a closer look at the 16 University of Central Florida alumni who were recently honored by the College of Engineering and Computer Science is a good start.
Industry leaders, entrepreneurs, scientists — and a retired NASA astronaut-turned-artist — were honored Oct. 14 for their career achievements in industries as diverse as construction and semiconductors. The honorees accepted their awards at the Dr. Phillips Center for the Performing Arts in downtown Orlando in front of a sold-out room of faculty, friends, family and staff.
Three alumni from the UCF Department of Electrical and Computer Engineering were recognized: collegewide honoree Thomas J. Riordan '78 '79MS, and department honorees Osama "Sam" Abdel-Rahman '05MS '07PhD and Sam Richie '80 '83MS '89PhD.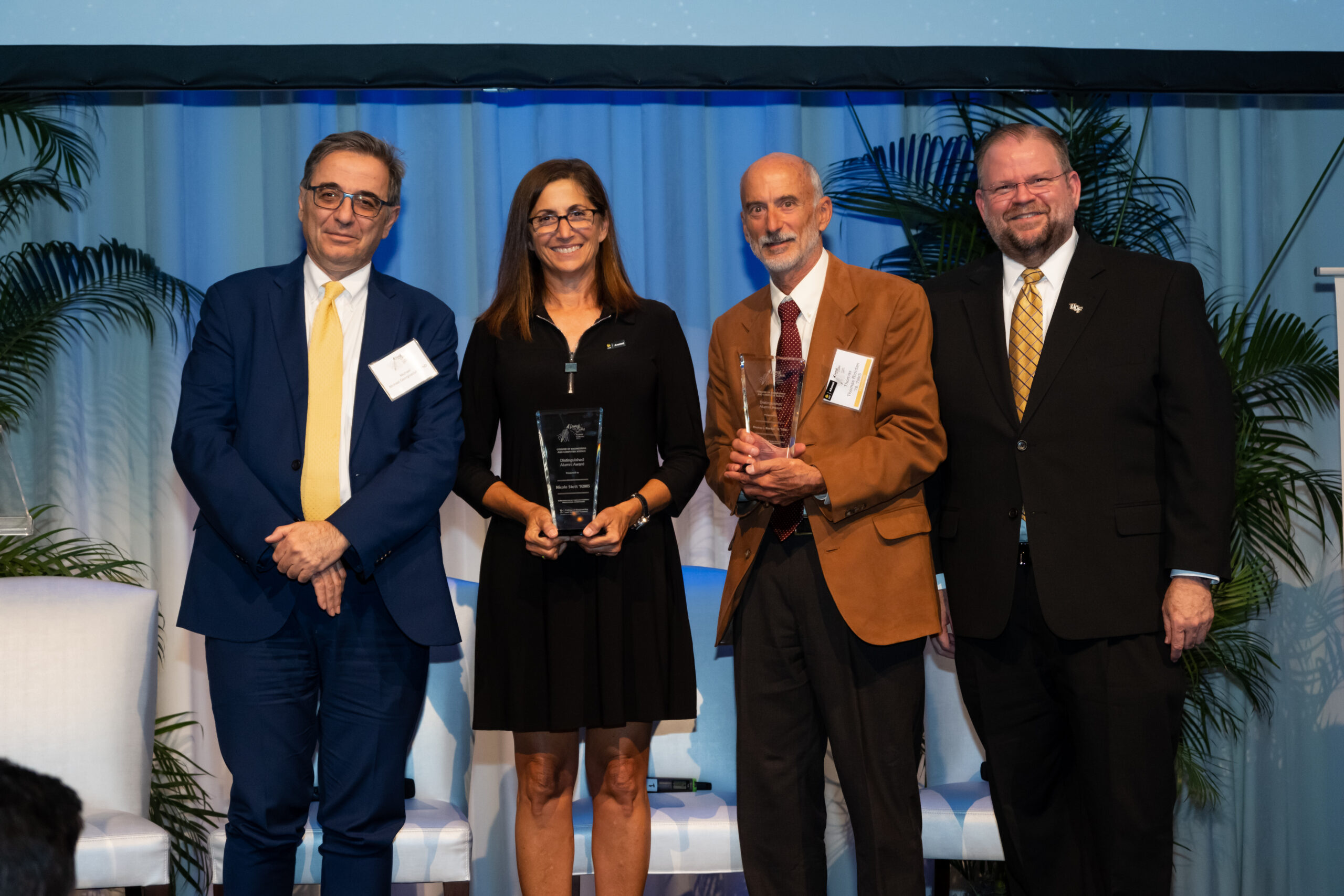 Tom Riordan
Riordan is the chief executive officer of Aril, Inc., a venture-backed startup that specializes in enhanced performance, power and security for computer processors. He is also a partner at the Orlando-based venture capital firm Deepwork Capital. His career includes working as a design engineer for Intel and in several research, development and executive roles for technology startups. To support UCF philanthropically, Riordan established the Thomas J. Riordan and Herbert C. Towle Endowed Professorship Fund to honor the memory of Towle, his UCF professor and mentor. He holds bachelor's and master's degrees in electrical engineering; and a bachelor's degree in pre-law studies.
"UCF gave me a foundation, an education, and the opportunity to work in industry. If you take that opportunity, that's when you find out what foundations can be applied in that era. Take advantage of those opportunities," Riordan says.
Sam Abdel-Rahman
Abdel-Rahman received his B.S. degree in electronics engineering from Princess Sumaya University for Technology in Jordan in 2003, and his M.S. and Ph.D. degrees in power electronics from UCF in 2005 and 2007, respectively.
After graduating, he worked for Intel Corporation in the U.S. He was also an adjunct professor at UCF. In 2011, he joined Infineon Technologies, one of the largest power semiconductor manufacturers in the world. Currently, he is a system architect engineer and technical lead responsible for developing the application roadmap of servers/data center SMPS and renewable applications.
He says he is proud and thankful for the award, and says he feels like he is part of a big family at UCF.
"I give UCF credit for my education and helping me shape my personality. Thank you UCF; I owe you much," Rahman says.
Sam Richie
Richie has been a faculty member in the Department of Electrical and Computer Engineering for more than 40 years. He has developed and enhanced course materials at the undergraduate and graduate level, developed and enhanced laboratory experiments, and integrated the use of computers in undergraduate courses. Over the past 30 years, he has supported the ECE Senior Design course sequence as well as other faculty who work on Senior Design activities.
He has encouraged, solicited and supported industrial and government agency involvement and support for the ECE Senior Design course. He has also served on various departmental subcommittees for different curriculum areas. His goal is to give the student many educational and professional opportunities while bringing the university and the community closer together.
He says he's appreciative of the honor and recognition, and that what he enjoys most about UCF is working with students.
"UCF as a public university has quite a range of students, a very diverse population, a lot of first-generation students. What comes with that is motivated students," Richie says. "They want to excel in college and be successful."
To learn more about all the honorees, see the full story by Kimberly Lewis here.