Overview
Electrical Engineering (EE) revolutionizes the way we live and evolve. We depend on electrical engineers to create, design, produce, operate and maintain the world's equipment and services as well as to solve future life challenges with advances in science and technology. Opportunities in the EE field are virtually endless and the specialized education EE undergraduate students receive in our program prepare graduates for successful and profitable lifelong careers.
The undergraduate Electrical Engineering (EE) program for the Bachelor of Science degree is offered by the Department of Electrical and Computer Engineering at UCF.
The Undergraduate Catalog is the official source of degree requirements for all undergraduate programs based upon the year you are accepted to UCF.
Explore Further
Electrical Engineering students at UCF have many unique advantages:
Starting with the 2017 academic year, 4 Track options have been introduced in the EE curriculum. Students will be able to take more elective courses within their area of interest enhancing their academic training and adding to their career potential. Details can be found on the ECE website http://www.ece.ucf.edu/electrical-engineering/#ee-course-requirements.
The ECE Junior Design course provides an introduction to the design process. Here students will learn about project definition through the development of appropriate engineering design requirements specifications. They will acquire necessary and required skills such as test equipment utilization, micro-controller development tool usage, schematic capture and PCB design tools etc. all through the design and fabrication of a basic ECE project.
The two semester Senior Design course for EE majors is a dynamic and exciting real-life experience course and is a vehicle for students to demonstrate the engineering skills acquired through their academic study. Senior Design is a centerpiece of the EE undergraduate educational experience.
All EE students are assigned a qualified academic advisor. Each student should seek academic advisement before registering for classes each semester to ensure that satisfactory academic progress is being maintained and to minimize excess hours.
The ECE department has outstanding faculty engaged in cutting-edge research through several highly competitive, prestigious research grants that they have been awarded. EE students have an excellent opportunity for pursuing undergraduate research in their area of interest with these faculty.
An Accelerated BS – MS degree program in EE is available to qualified UCF students.
The Institute of Electrical and Electronics Engineers (IEEE), Eta Kappa Nu (ECE Honor Society), Women in ECE and CS (WEECS) professional societies provide real-life benefits including networking, face-to-face meetings with experts and career experience.
The ECE Department is located in the Harris Corp. Engineering Center – an ultra high-tech building with state-of-the-art revolutionary equipment, computers, and labs for an outstanding educational experience.
While licensure or certification may be available in this field of study, our program does not directly lead to such licensure or certification upon graduation. The professional preparation you receive in our program meets the educational requirements for licensure as a Professional Engineer and may still assist you in such pursuits; however, the licensing authority and requirements for Professional Engineers falls under the jurisdiction of the licensing board for the state, territory, or foreign entity in which an engineer practices. If you intend to pursue such credentialing in your state or elsewhere, we strongly advise you to contact the applicable state credentialing authority to familiarize yourself with its specific requirements. Alternatively, you are welcome to contact Dr. Kalpathy Sundaram at
Kalpathy.Sundaram@ucf.edu
or Ms. Charlese Hilton-Brown at
Charlese.Hilton-Brown@ucf.edu
with questions in this regard and we will do our best to assist you in your career planning.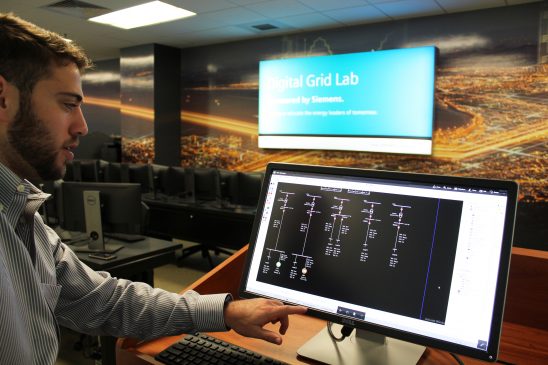 "The 660-square-foot Siemens Digital Grid Lab equips students with the latest skills needed to land jobs in the evolving energy field. The lab features software platforms that map out grid-transmission needs and simulated models of the UCF campus power system where students will learn how to design and test a self-healing distribution grid." — Read the whole story on UCF Today.