Accelerating Collaborative Research + Innovation
Connecting Industry Partners with Research Universities through Matching Grants
The Florida High Tech Corridor's Matching Grants Research Program fosters applied research between industry partners, and faculty and student researchers at the University of Central Florida and University of South Florida. Our grants directly fund the work of expert faculty and create an opportunity for their students to participate in collaborative research with industry partners in the 23-county region.
The Florida High Tech Corridor Council, Inc. (The Corridor) was founded in 1996 to attract, grow, and retain high technology companies in Central Florida—Suncoast to Space Coast. The Corridor's flagship program, the Matching Grants Research Program (MGRP), aims to incentivize industry-university applied research collaborations, support students in high-impact experiences, encourage technology creation and commercialization, and amplify economic development in the region.
The MGRP at the University of Central Florida (UCF) can provide up to $150,000 in matching funds for applied research projects between local industry partners and UCF researchers, including Small Business Innovation Research (SBIR) / Small Business Technology Transfer (STTR) projects. These funds match the industry partner's investment in the project and are used to expand the project's scope of work and allow our students to participate in cutting-edge, applied research. Match ratios may vary based on company size and program priorities.
UCF MGRP staff will help to pair interested companies with appropriate UCF researchers to take advantage of this program. Please contact program staff to discuss the project and potential collaboration.
Eligibility
To be eligible for a matching grant, the research projects must:
Involve a local industry partner and a UCF Principal Investigator (PI)
Focus on applied research that supports the development and commercialization of new technologies
Include support for at least one UCF student researcher for the duration of the project
The industry partner must have a significant presence in The Corridor's 23-county region:

Alachua, Brevard, Citrus, DeSoto, Flagler, Hardee, Hernando, Highlands, Hillsborough, Lake, Levy, Manatee, Marion, Orange, Osceola, Pasco, Pinellas, Polk, Putnam, Sarasota, Seminole, Sumter, Volusia
Program Priorities
Participation in the Matching Grants Research Program has become increasingly competitive. The program prioritizes funding for projects that support high-impact research benefiting local industry, the university, and our region. The project between the industry partner and the university should prioritize the following:
Generates new intellectual property or technology
Develops and commercializes university technology
Provides a tangible impact for the industry partner
Advances strategic research areas of our universities and industry clusters (see below)
Engages new industry or faculty participants
Leverages federal funding (i.e., Phase I or Phase II SBIR/STTR)
Encourages interdisciplinary collaboration
Provides research experiences for students and fellows
Application Process
Applications will be reviewed on a first-come, first-serve basis until funds are exhausted for the fiscal year. The application documents should be completed collaboratively by the PI and industry partner. UCF's Program Director is available to review document drafts and provide feedback throughout the application process. Please contact the Program Director for application materials.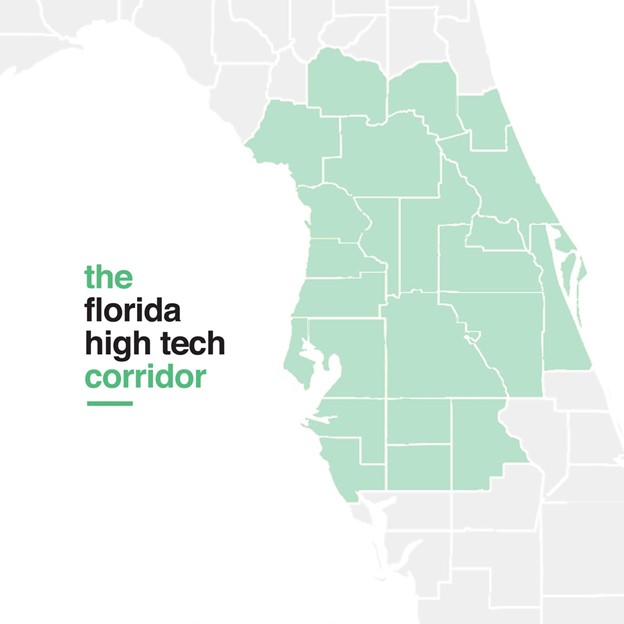 Strategic Research Areas
Applications are particularly encouraged in areas contributing to the development of the high technology industry sectors encompassed within the Florida High Tech Corridor:
aerospace + aviation
agritechnology
energy + environmental sciences
financial technology
gaming, entertainment + esports
information technology
learning sciences + human performance
life sciences + medical technologies
microelectronics, nanotechnology + sensors
modeling, simulation + training
optics + photonics
The University of Central Florida MGRP will prioritize projects that align with the UCF Strategic Plan.