Zhihua Qu, Pegasus Professor and former chair of the UCF Department of Electrical and Computer Engineering, has received the Outstanding Leadership and Service Award from the prestigious ECE Department Head Association (ECEDHA).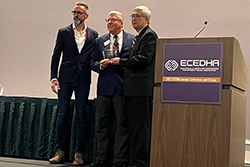 The award is given to professionals who have displayed a sustained record of leadership and service, and who have contributed significantly to the organization.
"ECEDHA is a family where the leaders from ECE departments in North America come together to share experiences, foster advances in ECE education, work with governmental agencies and industry to promote and enable the pursuit of innovative ECE research of national and global impact, and attract diverse, top-quality students and faculty to ECE disciplines," Qu said. "It was my privilege to have served the ECE community, and I am deeply honored to receive this award bestowed by my peers."
Qu received a Ph.D. in electrical engineering from the Georgia Institute of Technology. His areas of expertise are nonlinear systems and control, with applications to energy, power systems and autonomous vehicle systems. In energy systems, his research covers distributed energy resources, dynamic stability of power systems, anti-islanding control and protection, distributed generation and load sharing control, distributed VAR compensation, distributed optimization and cooperative control.
He is a past president of the ECEDHA, an inaugural member of the National Engineering Leadership Multi-Section Alliance's Standing Council, and IEEE liaison to Smart Grid Steering and Operational Committees.